The inaugural edition of the Dozek Inter Schools Football competition for five traditional secondary schools in Onitsha kicked off Tuesday in Onitsha, the commercial hub of West Africa. This follows the successful unveiling of the Dozek Cup2023 by the organisers at the Peter Odili Hall of the famous Christ The King College, CKC, Onitsha.
The five schools include CKC, Metropolitan College, Washington Grammar School, Our Lady's High School and Dennis Memorial Grammar School, DMGS, Onitsha.
Organising Committee Chairman and defunct Premier Breweries FC, Jasper United, Gabros International and Rangers winger, Emeka Raphael disclosed that sponsor and Dozek boss, Donatus Nzekwesi, an ex-student of CKC, wants to recreate the atmosphere of 'friendship, rivalry, competitiveness and sound combination of sports and academics amongst the students.
Raphael, a former Nigeria U23 Dream Team Eagles invitee, further disclosed that the tournament, in the dream and objective of Chief Donatus Nzekwesi, was aimed at discovering young football talents who could be helped to develop and become great players even outside of the country.
"Dozek's boss, Chief (Dr) Donatus Nzekwesi, was an ex-student of CKC. He wants to give back to the society that made him and starting from his alma mater, CKC, became a matter of design, not a coincidence", stated Raphael whose sports consultancy firm, SARADOE Consults, is organising the competition said.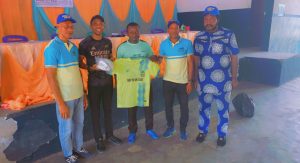 "Last year, the sponsors, Dr Don Nzekwesi started off with the CKC Inter House Sports meet. This time, Dozek decided to widen the scope by kick-starting with just five schools.
"It won't be a one-off thing. Next year, more schools will be included. Already, many schools have started indicating interest but I told them to wait till the next edition.
"We want to revive School sports and bring back Onitsha to the pinnacle of talents discovering centre in the state".
He revealed the format for the tournament, stating that the five schools will engage themselves in a round-robin league.
"Initially, we thought off a straight knock-out format but on second thought we jettisoned that.
"In doing so, we felt it won't be nice for a team to leave the tournament just after (losing) a game. It dampens the spirit.
"So, we now opted for the round-robin league format which means that all the teams will play each other.
"After that, the top two teams on the table will play the final to determine the overall winners", Sarah explained.
All the participating schools received a set of jerseys each (according to their school team colours) and a match ball.